Southwest Canyon Trip
The Southwest United States with its canyons and rock formations offer some unique vistas. Erosion over the millennia has left majestic canyons and rock towers, columns, arches, ridges, walls, and pinnacles. This past Fall my brother, his wife and daughter took a trip that visited a few of these sights.
After traveling East from Las Vegas these are some of the mountains in Utah.

A windblown tree.
Just along the highway good views of the mountains can be taken in.
I thought this panorama captured the bend in the road.
These mountains had some different rock strata.
Still more different mountain formations.

These rocks show how the Red Canyon got its name.
Red Canyon is also known for its rock tunnel.
Arriving at Bryce Canyon National Park this view shows some of the rock formations found there.
A little closer view better shows the rock columns the park is known for. These geological structures are called hoodoos which are formed by frost weathering and stream erosion of the river and lake bed sedimentary rocks.
Another view.
This is a view from a hike taken down into the canyon which shows how some trees have grown.
This rock formation is named Natural Bridge though it is actually one of the arches in the park.
The next day this panorama shows rock formations at Arches National Park.

These are 2 of the over 1000 arches in the park.
This is Landscape Arch which at 290.1 feet is the longest arch in the park.
Next up is this view of Monument Valley which is known for its vast sandstone buttes rising above the valley floor.
A panorama view.

Another view.
A closer view.
One last view nearing sunset.
The last stop is Canyon de Chelly National Monument which is owned by the Navajo Tribal Trust of the Navajo Nation. This also has some nice fall color.

One last view before ending our journey.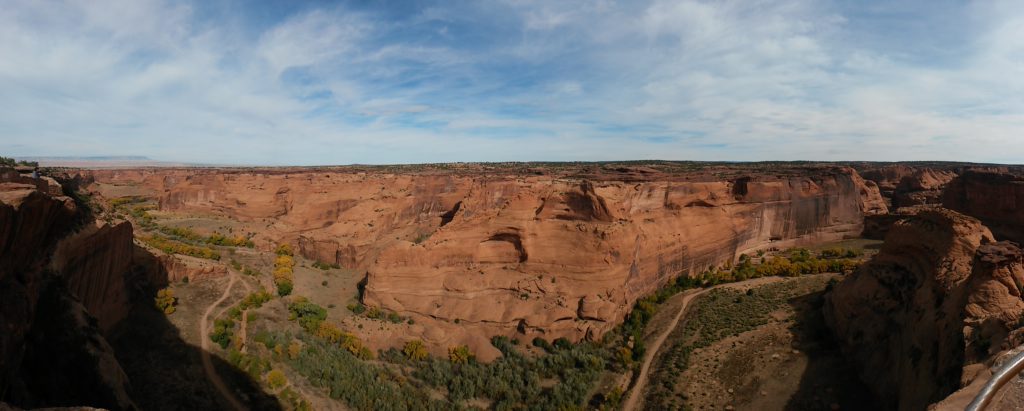 All the pictures in this post were taken by my niece Rebecca except for the 2 Red Canyon pictures which were taken by my brother Galen. Thanks to both of them for sharing their pictures.
More Information:
Red Canyon information
Bryce Canyon National Park Wikipedia article
Arches National Park Wikipedia article
Monument Valley Wikipedia article
Canyon de Chelly National Monument Wikipedia article